As I recently mentioned, I am going to be teaching a class on
Eastern European Genealogy
for the California Genealogical Society on Saturday, February 11 at 1:30 p.m. (I don't know why it is listed as 1:30, since we usually start at 1:00.)
This will be my first time lecturing on genealogy - I have taught many things over the years, and I have spoken around the U.S. and in Ireland about transgender and legal issues.
The description of the class is: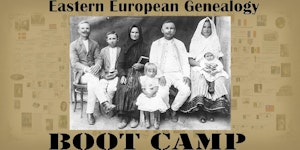 Eastern European Genealogy

Eastern European genealogy presents unique challenges to the researcher because of shifting boundaries, multiple languages, multiple religions, politics and population movement. Ancestral towns frequently had multiple names simultaneously, and even locals had difficulty with consistent recordation of names and relationships.




This class will highlight the best resources and strategies for those with ancestors primarily from regions that were formerly parts of the Polish-Lithuanian Commonwealth and the Austro-Hungarian Empire, corresponding to the modern nations of Austria, Belarus, the Czech Republic, Estonia, Hungary, Latvia, Lithuania, Poland, Slovakia, Ukraine and portions of western Russia.
I learned today that the class has sold out! We have 27 people who signed up, including five non-members who paid $30 and three members who also donated for the event. We have a waiting list.
This is exciting, and very, very nerve-wracking. I am a very comfortable speaker, and I am great at extemporaneous speaking, but preparing a full lecture with associated materials is challenging. I have been working on it for the past few weeks, but I since this is my first time presenting this material, I have to do every slide from scratch.
This is a great opportunity, and I am very much looking forward to getting this one together. I am planning on attending a week-long class on
Tracing your Roots in Eastern Europe
at GRIP in late June (the only reason I wouldn't go is that I am waiting on an unlikely appointment to an important state commission which would conflict with the class).
Now, I just need to really learn Polish, and get my Cyrillic reading skills up for reading records, and...